The full range of IHLE tires
Since we are a full-range supplier, you can be confident of always finding the right tire, whether you are looking for Summer, Winter or all-season tires for cars, SUVs or light commercial vehicles.
It makes no difference whether you are seeking standard or exotic sizes - we have them all.
Wide brand portfolio from a single source - in premium, quality and budget grades
The right tire for all seasons
As a business customer of IHLE you have exclusive access to a comprehensive range of tires which include light commercials as well as profiles for cars and SUVs. All Summer tires, Winter tires and the coveted all-season types in premium, quality or budget grades are there for you to select.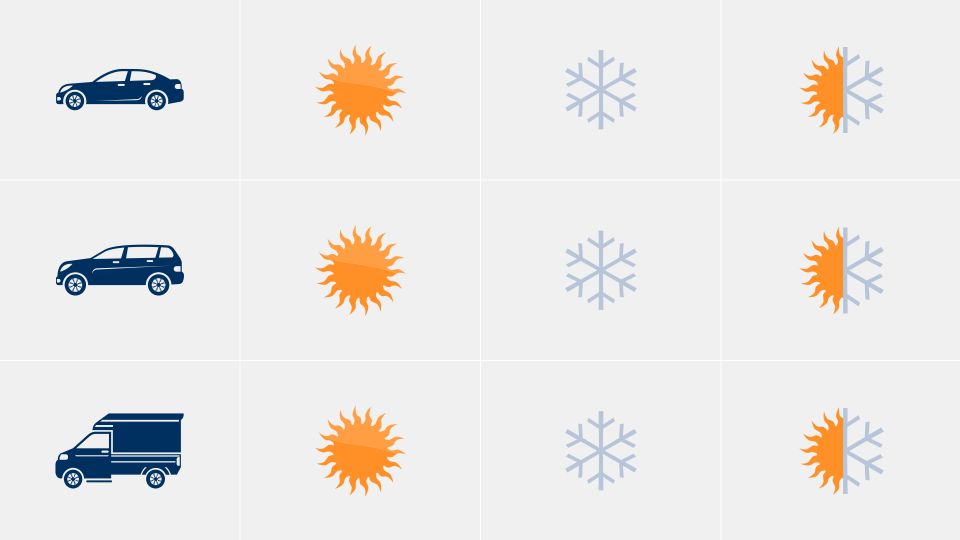 Tyre wholesale: the IHLE full range of tyres
What does IHLE tyre wholesale offer?
IHLE tires is one of the most successful tyre wholesalers in Europe. It offers dynamic customer advice and the possibility to create complete wheels individually according to customer requirements in our complete wheel configurator. Our well-trained sales team will provide you with quick and professional advice on the various tyres and brands. Thanks to our high-performance warehouse, we offer a high availability of the different tyre sizes and brands – also during the season.
Who can buy tyres at IHLE wholesale?
As a tyre wholesaler, tradespeople can take advantage of our services and benefits. Our customers include garages, car dealerships, petrol stations, and tyre dealers as well as tuning workshops and driving schools. We are the right contact for tyres, rims, and complete wheels.
What tyres are available at IHLE?
We offer a diverse range of tyres. Whether passenger car, SUV, or light truck tyres, we offer the right tyres for every vehicle. We can also provide you with suitable or summer tyres when the season changes. Our configurator allows you to order the ideal complete wheels directly.
What brands are there?
As a tyre wholesaler, we offer a large assortment with many different brands. You will find premium tyres such as Michelin, Pirelli, Bridgestone, and Dunlop as well as low budget tyres such as SEBRING and APLUS.
IHLE service in Germany
Our IHLE tour delivers to cities and smaller towns in the region. From Baden-Württemberg to North Rhine-Westphalia. Cities and villages around Karlsruhe and Freiburg can take advantage of the SameDay Tour and receive their order on the same day. Tour regions outside the SameDay Tour receive their tyres on the following working day. As a tyre wholesaler, IHLE service offers great deals and contests. Our newsletter keeps you informed about the latest promotions. In our IHLE online shop, you will find a large selection of different tyres and rims. You have round-the-clock access to the current availability of the various brands. Find out now and become a part of IHLE tires!